Ladies and Gentlemen!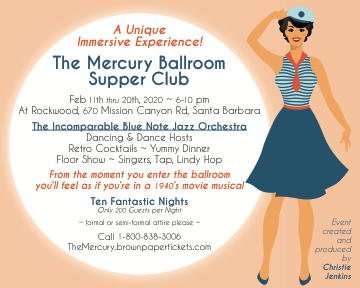 I am so looking forward to welcoming you to The Mercury Ballroom Supper Club, being held for ten nights in February, circa 2020! Thank you for supporting this unique event.
The gorgeous historic Rockwood Club is easy to find on Mission Canyon Road, just north of the famous Santa Barbara Mission. You will see a wooden sign that says Rocky Nook Park, and the NEXT driveway after that is for Rockwood (also called The Woman's Club of Santa Barbara).
There is an arched drive that curves to the left in front of the building, where you may drop-off any guests who are not fond of the small hike from the parking lot. Most guests, after turning in off of Mission Canyon Rd, should go straight up the drive that leads behind the building. ANY of those spaces (regardless of how they are marked) are fine for you to use - 72 parking spaces in all - no payment.
We will have fairy lights and helpful signage for you to find the "front door" that faces Mission Canyon Road. We suggest those that need time getting inside and seated, plan to arrive from 5:45 to 6pm.
(IF YOU NABBED ONE OF THE FEW "DANCE ONLY" TICKETS, YOUR ENTRANCE TIME IS 8:30PM, STRICTLY OBSERVED).
Once you enter at 6pm you will choose a free drink from a gorgeous showgirl, one of 5 Retro Cocktails. Then you'll be led to the table of your choice, and yes, as each table holds ten, you will likely sit with other fine folk you'll enjoy chatting with over the evening.
At 6:45 the professional Floor Show begins - with your Emcee, Nathan Madden, a true Broadway singer/dancer - a full half hour of dancing and singing and radio highlights, with the phenomenal Blue Note Jazz Orchestra providing the tunes from The Great American Songbook (Frank Sinatra, Tony Bennett).
Then a short break and the bar opens for service, followed by the Cast serving your yummy dinner (one vegetarian option). Puddings and coffee and a virgin hot ginger honey lemon station will be available the rest of the evening. As in all supper clubs during war-time, food is rationed, and there is no menu - patrons are grateful for whatever the Club has put together for them. It will be yummy and hot and you'll be full!
At 8:15 the Cast will invite individual guests to dance with them, as well as ALL dance,til 10pm, again to the amazing Blue Notes 20-piece orchestra. Sit and listen and dream the night away, or join in the waltz, foxtrot, swing, cha-cha,and more.
There is a living room with fireplace where you can sit and chat adjacent to the ballroom (although food/drink is not allowed there) and smokers can step outside. Rockwood has a 10pm cut off for music as it is located in a residential area, so shortly after you'll find your way home from a contented night.
Hey ho, please observe the DRESS CODE! Formal is grand, semi-formal business suits and ties are good too, as are 1940's type costumes, glamour girl gowns,and cocktail dresses. We will unhappily but definitely turn away guests in blue jeans, tennis shoes, tee shirts, beach wear and the like. Coat Check available!
And lastly - the use of futuristic telephonic instruments, photography,and cameras that record moving pictures - are not to be used in The Mercury Ballroom.
The 33 of us so look forward to entertaining you!
Warmly,
Christie Jenkins
Creator/Producer of
The Mercury Ballroom Supper Club